Gustav Elgin

Igor Vidor: Beast-beast (allegory of terror series).
UV print on bulletproof fabric, steel. 300x250x265cm.
2020.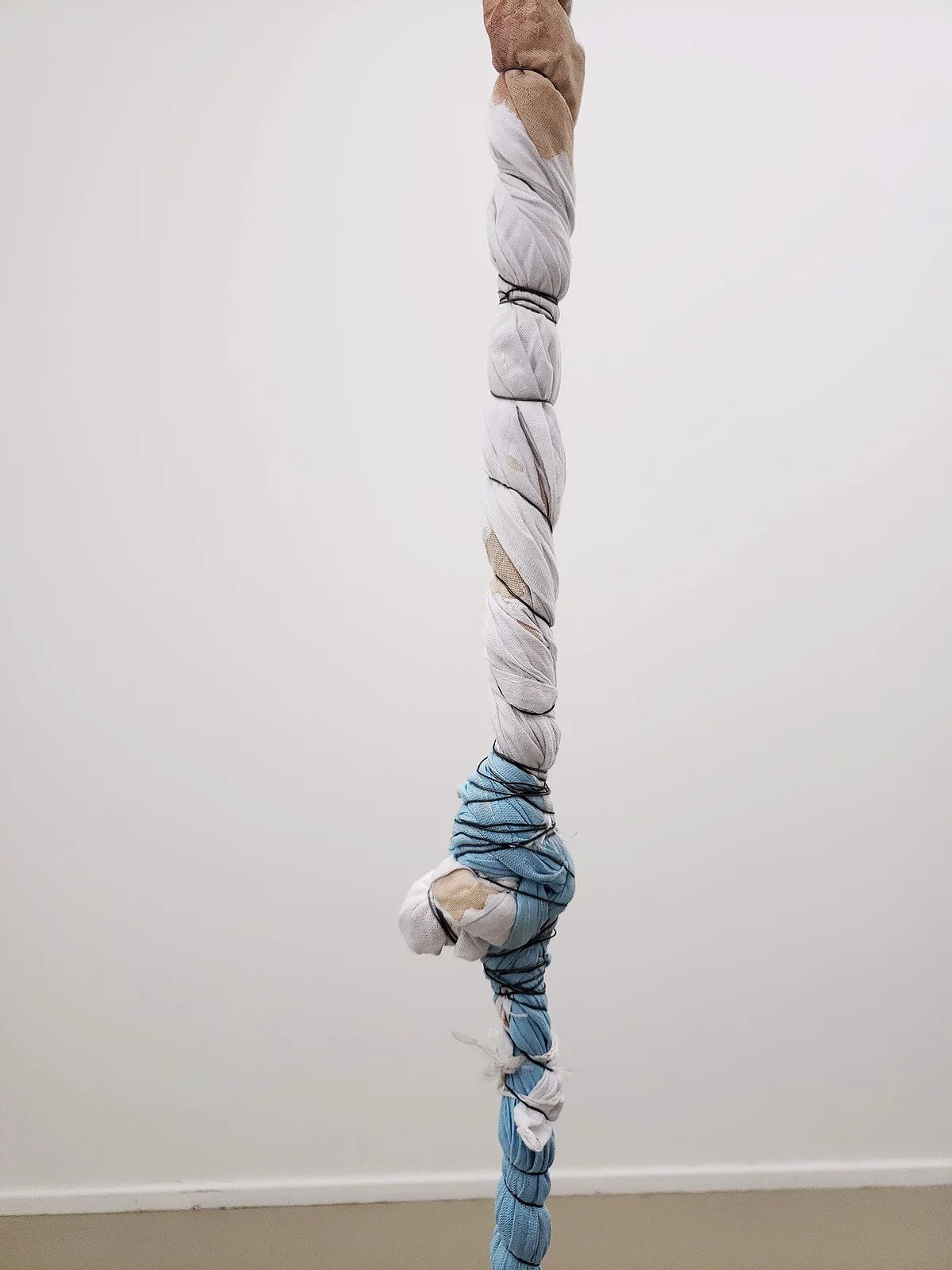 Igor Vidor: Teresa and the Moira. Twisted sheets, lead wire and aramid. 11.8 m (length). 2019.
Exhibition Text: Igor Vidor Solo Show at Künstlerhaus Bethanien 2020
The incessant violence plaguing the streets of Brazil has found a unique visual expression in the lead shells that litter poor neighbourhoods, and the bullet-proof Aramid fiber covering the cars of the rich. These aesthetics of violence are the backdrop of Igor Vidor's work, whose involvement forced him and his wife to flee Brazil in 2019.
Exiled in Germany, the home of multiple weapons manufacturers that provide Brazil with a steady influx of guns and ammunition, Igor's projects have only gained in agency.

In the work "Beast-Beast", prints of chimeric beasts, combined from those found in the badges of Brazilian law enforcement, are perched on entwining metal beams. The airy framework of the structure and the wispy Aramid on which they are printed, betray the meager justification the animal designs lend to police brutality.
Gotham City's caped crusader, Batman, also found his avatar of fear in the realm of the zoological with his appropriation of the bat. Igor transfixes the moment of his metamorphosis in "Untitled (Wayne's thoughts)" with the print of a speech bubble stemming from the superhero's origin story in "Hero Comics #33" (1939). The transformation serves as sole justification for the billionaire vigilante's violence against Gotham's criminals (read: poor). But after 80 years, Batman's interference has done nothing to detangle the perennial vortex of crime and corruption that whirls at the center of this cesspool of crime. On the contrary; he has become a perpetuating force.

A single braid of lead-wire and bloodied bed-sheets, made in the tradition of Brazilian prison escapees, droops from a ceiling, and kneads these narratives into a synthetic swirl of aramid-mesh. It's a lonely testament to the futile escape from ceaseless violence, interwoven with personal and global conflicts in constant suspension.