Axel Gouala: Parody as Metamorphosis
Published in Künstlerhaus Bethanien's BE Magazine (2020).

Hidden behind the three thick roots of the Aristotelian poetic genres' family tree; the tragedy, comedy and the epic, one finds their often-forgotten sibling, the parody. Scarcely addressed by Aristotle himself, at least in the surviving literature, the French literary critic Gérard Genette sat out to reclaim the parody into the literary fold with his 1982 seminal work Palimpsests: La Littérature au second degré. Genette presupposes two modes of production that engenders parody, namely imitation and transformation, and it is the latter which seems to best describe the process behind Axel Gouala's metamorphic sculptural objects. Where Ulysses recalls the Odyssey, or plaster copies their marble originals, Gouala humorously transforms materials much more familiar to the denizens of the 21st century: Plungers playing palms, palms playing coatracks, a mop turned snake slithering away from its bucket. It is precisely the intimacy with which we greet these familiar materials and made-to-be-held design objects that makes the viewing of Gouala's works an almost haptic affair.

Here, one may paraphrase Walter Benjamin's Einbahnstraße (1928), that reading a text compared to copying it, is what flying over a landscape is to walking its streets. Gouala's transformative copying not only echoes the metaphor, but seemingly translates it into the literal in his exhibit Skulpturatlas, Temple et collection personnelle (2020). For the polystyrene onto which Gouala has carved details from medieval wooden sculptures, was collected from the streets by the artist, and subsequently returned to them in the window-display on Künstlerhaus Bethanien's ground floor. Since one must only have unpacked a television or stereo set to judge the weight and feel of the polystyrene replica, or what it would take to snap it in half, curious passersby walking down Kottbusser Straße during the latter months of 2020 were themselves invited to tactilely take part in an unfolding copying and transformation of classical sculpture and sleek design – freed from the vantage of the museum.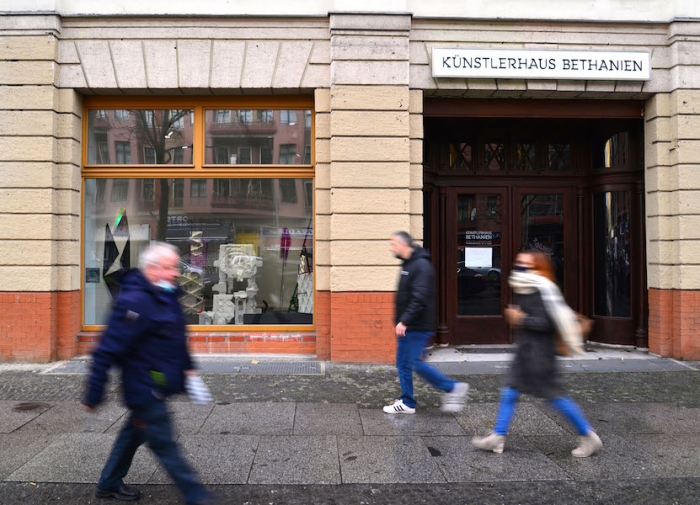 Axel Gouala: Skulpturatlas, Temple et collection personnelle (2021). Exhibition view: Window of Künstlerhaus Bethanien, Berlin.
Axel Gouala: Parodie als Metamorphose

Erstmals im BE Magazine (2020) vom Künstlerhaus Bethanien erschienen.

Hinter den drei Wurzeln des Aristotelischen Stammbaums poetischer Gattungen, der Tragödie, der Komödie und dem Epos, verbirgt sich ihre oftmals übersehene Schwester, die Parodie. Von Aristoteles selbst kaum thematisiert, zumindest nicht in den überlieferten Werken, forderte der französische Literaturkritiker Gérard Genette mit seinem Werk Palimpsests: La Littérature au second degré (1982) die Parodie auf dem Feld der Literatur zurück. Genette geht von zwei Produktionsmodi aus, die die Parodie hervorbringen, Nachahmung und Transformation, und womöglich ist es die Letztere, die den Prozess hinter Axel Goualas metamorphen skulpturalen Objekten am besten beschreibt. Wie Ulysses die Odysseeanklingen lässt oder Gipskopien die marmornen Originale, so transformiert Gouala humorvoll Materialien, die uns heute deutlich vertrauter sind: Pömpel spielen Palmen, Palmen spielen Garderobenständer, ein Wischmopp wird zur Schlange und schlängelt sich weg vom Eimer. Gerade die Vertrautheit, mit der wir diesen praktischen Gestaltungsobjekten begegnen, verleiht dem Betrachten von Goualas Werken ihre Haptik.



Axel Gouala: The Snake aka The Great Escape (2020). Exhibition view: Oslo Night, Regionale 21, Le Monde Après, Salon Mondial, Basel.


Man kann hier Walter Benjamins Einbahnstraße (1928) paraphrasieren, nach dem das Lesen eines Textes wie das Überfliegen einer Landschaft sei, das Kopieren aber wie ein Spaziergang durch ihre Straßen. Goualas transformatives Kopieren greift diese Metapher nicht nur auf, denn in seiner Arbeit Skulpturatlas, Temple et collection personnelle (2020) scheint er sie ins Wörtliche zu übersetzen. Das Styropor, auf das Gouala Details aus mittelalterlichen und klassischen Plastiken schnitzte, wurde vom Künstler von der Straße aufgelesen und anschließend in der Schaufensterauslage des Künstlerhauses Bethanien getragen. Man muss nur mal einen Fernseher oder eine Stereoanlage ausgepackt haben, um Gewicht und Haptik ihrer Styropor-Repliken beurteilen zu können. Und so waren neugierige Passanten, die in den letzten Monaten des Jahres 2020 die Kottbusser Straße entlanggingen, eingeladen, an einem fortlaufenden Kopierprozess von klassischer Skulptur und alltäglichem Design teilzunehmen – frei von musealen Perspektiven.